--- Thom Parker's relationships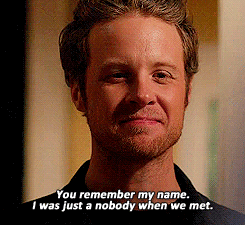 { also check out his pages and timeline
Rita Parker
is my mother but I hate her. She was a nasty bitch and I hope that I never see her again.
Jack Parker
is my father. I have always been close with him and he usually knows what I'm doing (or messing up).
Kenneth McCallister
is my boyfriend and he's the most important guy in my life. He loves me for who I am and that's sweet.
Aaron McCallister
is Kenneth's son. From all of his kids, Aaron has always been the most distant one to me.
Samuel McCallister
is also Kenneth's boy. Samuel is a lot of fun, he has a lot of energy and we're a good match.
Rose McCallister
is Kenneth's daughter. We used to be close, but after the move she has been a bit confused.
Christina Jackson
is Kenneth's ex and she was his gay beard. I've met her a few times and it wasn't pleasant.
Marilyn McCallister
is Kenneth's mother. She wasn't happy about what happened but I understand it completely.
Miley McCallister
is my ex and Kenneth's sister. A while ago I would've done everything for her but now she hates me. Isn't life fun?
Katy McCallister
is our daughter. I'd love to see her but Miley doesn't let me and it sure as hell kills me inside.
Maya McCallister
is Miley's twin sister and she hates me for all I've done. Apologizing doesn't help, so I have to deal with it.
Oliver McCallister
is Kenneth's younger brother. He wasn't that mad about the situation even though he should be.
Michaela McCallister
is Kenneth's younger sister and I think she has no clue about what happened. She's a nice girl.
Kelsey McCallister
is also Kenneth's younger sister. She used to like me a lot but I don't know if things have changed.
Lawrence McCallister
is Kenneth's little brother, too. He hasn't said anything about the situation. It's good because I like him.
Joshua McCallister
is the the last one of Kenneth's younger siblings. He is a nice boy but we have never been that close.